Ooh, hobbies - I hadn't noticed this thread before.
Nowadays I don't do much besides write (and not as much of that as I'd like - somehow the words don't seem to come as easily as they once did, but I manage). I collect action figures, but that's more just to be surrounded by pretty stuff while I'm writing.
A few years ago I was very much into Warhammer 40,000 - not so much playing, but painting armies and writing stories about them, which were my first serious fanfic. They're still online at my old site
Artemis
(which is where I got the name from, incidentally) - I cringe a bit to read them now, though I still think The Rose is kind of cool, albeit unfinished - only two of the three 'books' are done. I keep wanting to finish it, but there's so many fanfics I want to write - most of the time Willow and Tara win the mental debate over what gets written next.
I had two main armies, good and evil. The first were the Furies: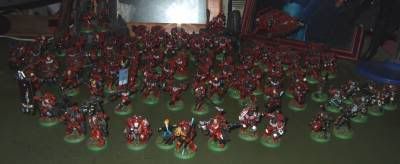 And the second were the Lost Souls: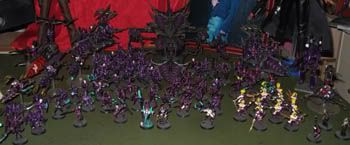 And for a closer look,
here
is a single Fury space marine (that's about an inch tall), the last miniature I painted, a couple of years ago - I took the chance to tweak the colours a bit, adding the bone trim to the shoulder armour instead of black. If I'd continued painting I'd have eventually repainted all the others to match, but I was losing interest by then - partly lack of local opponents, partly I'd already painted all the troop types I was interested in painting and didn't feel like buying more just to have more (those things ain't cheap). The game was evolving too, becoming more slanted towards larger forces, and other types of army I wasn't interested in - combined with the cost, it was just easier to let it go than try to keep up.