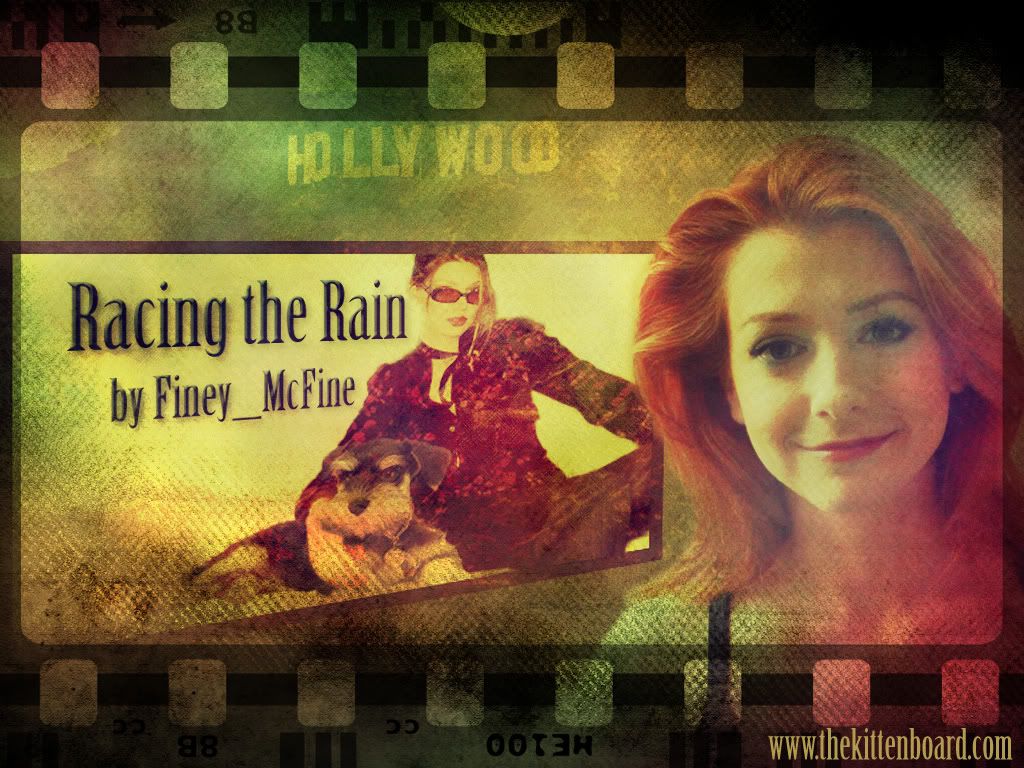 TITLE: Racing The Rain
AUTHOR: Finey_McFine
RATING: NC17
DISCLAIMER: Willow, Tara, and any other BtVS characters, as well as some random dialog, belong to Mutant Enemy. ALL other original characters belong to me! This includes: Willow's siblings and teammates, plus Tara's friends and co-workers. Mention of any 'real' people in this fic is brief and pure fantasy.
SUMMARY: Totally AU! Set in LA with lots of W/T fluff and some angst, but no Hellmouthyness; just good old regular day-to-day drama. Willow is attending college on an athletic scholarship and Tara is Hollywood royalty. They meet and fall in love, of course, but will they be able to survive the pitfalls of a public romance? Well, you'll just have to read and find out!
<Thoughts are in italics>
FEEDBACK: Yes! Any glaring issues…please send me a PM!
AUTHOR'S NOTE: Good grief, I cannot believe it took me nearly FIVE YEARS to post this update. I can't say when the next update will be, but hopefully NOT five years. Anyway, there was no proof of this chapter and I only re-read it a couple of times, so if you come across something, just PM me and I'll fix it:) Enjoy!

Chapter 69: Ringer
Tara awoke the next morning to the sound of squabbling sparrows and the sun streaming through the open bedroom window. As she stretched, somewhere in the back of her sluggish mind, it began to register that something, or more notably someone, was missing. When Tara finally opened her eyes, she squinted at the harshness of the bright morning and groaned her apparent dissatisfaction. Not only was the light too bright and the birds too loud, but her Willow-shaped snuggle pillow was missing as well. Tara finally succumbed to her extensive need to use the bathroom and popped out of bed, a bit too fast. Tara staggered and clumsily fell back onto the bed.
"Tara, baby…are you okay?" Willow was coming out of the bathroom when she saw her girlfriend stumble and fall. She was at her side immediately.
"I think I stood up too fast," Tara groaned, covering her light-sensitive eyes with the back of her hand.
Willow chuckled lightly as she rounded the bed and pulled the curtains closed. She crawled back into the bed next to Tara; propping herself on her right elbow and gently running the fingers of her left hand through Tara's tangled honey blonde hair. She looked utterly spent and more than slightly hung over, but to Willow, the woman lying naked in front of her, with the incredibly frightening case of bed-head, was still the most beautiful sight she'd ever seen.
Tara slowly slid her hand off her eyes and looked towards Willow; she was wearing the most adorable dreamy look on her face. "What are you smiling about?"
Willow merely shrugged her shoulders, and the adorable smile widened. "I was admiring your beauty," Willow whispered as she trailed her fingers down Tara's neck, across her collarbone and down the valley between her breasts.
Tara smirked, reaching both arms above her head, stretching languidly and sending Willow's hormones into a mad frenzy. In Willow's book, Tara didn't even have to try; she was, flat out, the sexiest woman on the planet and the redhead couldn't resist trailing her fingers over Tara's breasts and down towards the soft downy curls. She figured, what the heck, since her hand was there anyway, why not try her luck? However, as soon as the flat of her palm made contact with Tara's lower abdomen, the blonde quickly grabbed her wrist and jerked it away. Willow's feelings were a tad hurt, but only for a brief second as she suddenly realized the 'why' behind Tara's actions. Willow giggled as her girlfriend grunted, then jumped up and sprinted naked towards the bathroom.
After a few seconds, Willow begrudgingly pulled herself out of bed and followed in Tara's footsteps; stopping to turn on the shower before rounding the corner to the private alcove that housed the toilet.
"Ahhhhh…" Tara sighed in relief.
As hard as she tried, Willow couldn't seem to suppress a quick snort of laughter at the lazy smile and look of total satisfaction spread across Tara's face.
The blonde turned towards the noise and peeked through one open eye at her amused girlfriend.
Willow held her hands up in mock defeat, before turning and wandering away. A minute or two later when she returned with two clean towels, she found Tara standing in front of the bathroom mirror; arms flat against her sides and staring at her reflection.
"Lookin' good baby!" Willow said as she passed by; playfully slapping the girl on her bare ass.
Tara turned and glared playfully at the redhead. "Willow Rosenberg, you are digging a
very
deep hole this morning."
Willow grinned, "I like it deep!" She said, winking at Tara and wiggling her ass as she stepped into the shower.
Tara rolled her eyes and chuckled; quickly brushing her teeth and following after her girl.
*******************************************
Feeling refreshed, Tara finally emerged from their bedroom. She looked around, picking up several empty cups along the way, and was thankful the mess wasn't too bad; considering the number of people at the party the night before. After dumping the cups and several other items in the trash, she started a pot of coffee. Not having the energy to stand and wait for the coffee to brew, Tara collapsed into a chair at the kitchen table. Just as she laid her head down, she heard a soft groan coming from down the hall. Tara looked up to see a disheveled Stacey shuffling her feet towards the kitchen.
"Hey," Tara said, not even bothering to lift her head off the table as she tucked some annoying damp hair behind her ear.
"Umph," Stacey grunted, dropping into the chair next to her and taking on a similar position as Tara. "God, I haven't been this hungover since last year after the championship series."
"I thought this was a nightly thing for you
college kids?
" Tara teased wryly.
Stacey hit right back with a playful smirk spread across her face, "I think the same could be said for you
Hollywood party girls
, no?"
"Touche," Tara mumbled into her arms; still cradling her head on the table with her eyes still closed.
"Where's Willow?"
"She's downloading a test review packet or something for her final on Monday."
"I bet she's wide awake and as hyper as a chipmunk on speed," Stacey mumbled.
Tara giggled as she lifted her head and creased her brow inquisitively, "She is, how did you know?"
"Willow doesn't get hangovers. It's one of the strangest things I've ever seen." Stacey said dryly, meeting Tara's eyes.
"What's strange?" Willow asked as she bounded into the room, wearing a pair of tight black three-quarter yoga pants and a matching black tank. She was alert and awake and looking very athletic.
"You," Stacey said pointedly, "And your odd ability to avoid hangovers."
Willow was already at the coffee maker and pulling out cups for everyone. "Jealous much?" She quipped, grinning at her friend and poking her tongue through her teeth.
As Willow began pouring the coffee, she paused briefly and glanced around the room. "Hey, where's Kurt?"
"Still asleep and still three sheets to the wind," Stacey said with a chuckle.
As the two friends continued to chat, Tara remained quiet; now resting her chin in her hands with her elbows planted firmly on the table. She was too busy admiring Willow's ass in those skin-tight pants and hadn't heard a single word they'd said. In fact, her mind had completely drifted back to the previous night…
"Will?" Tara called out softly as she entered their bedroom. "Willow, where are you?" She squinted her eyes and peered around the dimly lit room. The blinds were closed tightly, and the only available light was the flicker from the orange flames in the fireplace.

Tara heard a click behind her, and before she could turn, two hands were snaking their way around her waist.

"Hey stranger," Willow whispered in Tara's ear as she hugged her girlfriend tightly from behind.

"Ummm, hello to you, come here often?" Tara's husky voice was already showing the tell-tale signs of her arousal.

"As a matter of fact, I do…several times today already." Willow smirked as she began placing light butterfly kisses along the side of Tara's slender neck.

Tara moaned appreciatively and began rubbing Willow's arms, down to her hands and back up again. Hands that had somehow managed to make their way under Tara's blouse and were currently cupping her breasts. Willow alternated between massaging them gently and pinching Tara's rapidly hardening nipples.

"Mmmmm…Will…" Tara groaned, completely defenseless against Willow's ministrations. The redhead knew exactly how to push Tara's buttons. Tara reached behind her to pull Willow closer, she expected clothes, but was met with silky smooth skin instead. Her eyes grew wide, and a hungry grin spread across her face. "You're naked…"

"Umm hmmm…" Willow breathed in Tara's ear as she ground her pelvis into Tara from behind.

"Oh God, I want you…right now." Tara spun in Willow's arms and smashed their lips together in a passionate kiss
"…and that was when Tara came out and turned the hose on them. After that, all hell broke loose. How'd you know they were hiding in the bushes anyway?" Stacey looked at Tara waiting for a reply when she noticed the sappy smile. The glassy-eyed woman was off in la-la land. She playfully poked Tara in the arm, "Taaaaaaara…"
"Huh?" Tara jumped, pulled from her sexy memories and back to reality. Her expression quickly went from one of questioning to one of blushing embarrassment, when she realized she'd zoned out and had no idea what they were talking about.
A few seconds later, Willow was depositing a steaming mug of coffee on the table in front of her. "Looks like you could use this baby," Willow smirked.
"Thanks…sorry."
Stacey just laughed as Willow attempted to catch her girlfriend up to the current conversation. "Stacey was filling me in on last night's events after I apparently passed out." Now it was Willow's turn to blush as Stacey raised a knowing eyebrow. "What? I was sleepy. Long day moving boxes. Lots of boxes…" Willow muttered, taking a sip from her mug.
Stacey was having fun with the teasing but decided to let them both off the hook. "Anyway, as I was saying…these two paparazzi were hiding out in the bushes, just inside the fence and photographing people out by the pool. One minute I'm casually leaned against the wall chatting with someone and the next I see a blur of motion and this crazy ninja woman attacking the bushes with a hose on full blast." Stacey snorted with laughter, "Oh my God Will, you should have seen their faces! Tara totally nailed them, cameras and all. They SO were not expecting that!"
Tara smiled proudly, "Well, that's what they get for trespassing on private property! They probably weren't expecting a free ride to the LA County jail either, jerks."
Willow pouted, "Damn, I missed all the fun."
Tara turned to Willow and countered with a mock pout of her own. "Aww, poor baby," She leaned in and brushed her lips over Willow's. "I think you still had a
little
fun," She whispered seductively and winked conspiratorially.
"Well, maybe just a little…" Willow replied, leaning in and returning the kiss. Tara's lips were so soft; she just couldn't get enough.
"Uh, you two do know I'm still sitting here, right?" Stacey said as she reached for the coffee pot Willow had sat on the table.
Both women just grinned and rubbed their noses together; lost in their little world.
Stacey shook her head and sighed with a chuckle; amused by the cuteness of her two friends. "Well," She said as she pushed back her chair from the table and stood with the fresh cup of coffee. "I'm going to try and wake sleeping beauty. We're supposed to be in Santa Barbara by five."
Willow looked up curiously and cocked her head. "Santa Barbara? For what?"
"My cousin's wedding." She said flatly.
"Oh shit…that's tonight?" Willow replied, momentarily taking her attention away from her lover.
Stacey sighed heavily and rolled her eyes, "Not every day you get to attend a
royal wedding
."
"Royal wedding?" She definitely had Tara's full attention now.
Stacey took a sip of coffee and flashed her best fake smile, "I'll let Will fill you in!" She said brightly, exiting the room.
Tara turned her attention back to Willow with a raised eyebrow. "Do I sense some family drama?"
Willow nodded, "Uh huh, to the tenth power. Still not as dramatic as Thanksgiving, but a close second."
Tara smiled at the adorable redhead and smoothed some hair out of her face. "What are your plans for today love?"
Willow scowled and pouted, "I need to study. What about you?"
Tara shrugged, "Food and a nap, I guess."
"Honey, you just got up, and you need a nap already?"
"And food. I mentioned that, right?" Tara asked, batting her lashes innocently.
"Okay, okay I get the hint." Willow rolled her eyes playfully. "Well, I guess a womanly breakfast is in order. How about eggs, bacon, toast, juice…?"
"And pancakes…definitely pancakes." Tara added.
"Mmm definitely," Willow grinned widely, wrapping her arms around Tara's neck and pulling her close.
"With lots of sticky syrup," Tara added; seductively kissing the corner of Willow's mouth.
"Mmmm….lots."
************************************************************
Several hours later Tara found herself groggily wandering out of the bedroom and with a distinct sense of déjà vu, except she noticed the house was much cleaner this time around. It was as if someone had waved a magic wand and cleaned everything spotless. Tara sincerely hoped that her girlfriend had not spent her time cleaning when she could have been studying or more importantly, snuggling.
"Will!" Tara called out, receiving a muffled reply from her girlfriend. Tara entered the kitchen and found Willow exactly where she'd left her hours earlier. At the table; except now it was a cluttered mess of books, papers, and multi-colored pens. Willow sat at the far end with her face down on her arms, quietly moaning.
"Oh sweetie, have you been here all day?" Tara asked.
"Uh huh."
Tara moved in behind Willow and began to massage her shoulders and neck gently. The muscles were incredibly tense but soon began to loosen their grip under Tara's magical touch.
"Ohh baby, that feels so good."
Tara just smiled, kissed the top of Willow's head and continued to knead the stiff muscles for several more minutes until Willow began to stir and stretch.
"Mmmm, hi baby," Willow said pulling Tara into her lap for a sweet kiss.
"Hi," Tara returned the kiss and pulled Willow closer.
"Did you have a good nap?" Willow asked as she snuggled her face into the crook of Tara's neck. She could never get enough of this woman.
"Umm hmm, could have been better though." Tara squeezed Willow tightly to get her message across. She'd missed snuggling with her girlfriend.
"I'm sorry love, it's my toughest class, and I want to be sure I didn't miss anything."
"I understand Will, gotta do what 'cha gotta do, but it doesn't mean I miss you any less." For some reason, Tara had awoken feeling clingy and emotional. Maybe she'd had a little too much sleep. Willow sighed in understanding and pulled Tara tighter. "Where's Ralphie?"
"Huh?" The redhead started to question, "Oh, he's outside, sunning himself." Willow said with a chuckle, turning towards the backyard and pointing out Ralphie; sprawled upside down in the grass under a small patch of bright afternoon sun.
Tara suddenly pulled back a bit, "Hey, why don't we get out of here for awhile? Maybe go for a walk in the park or something?"
Willow pondered the question for a moment and decided she that she would much rather spend the rest of the day with Tara. She knew the material and besides, the test wasn't until Monday anyway. She would have plenty of time to do a last minute review if necessary.
"You know what? That sounds like a great idea." Willow grinned brightly and planted a kiss on Tara's lips.
"Will?" Tara asked as she rose from Willow's lap.
"Hmm?" The redhead answered absently without looking up as she attempted to organize her things before they left.
"I was wondering, uh, who cleaned the house?"
Willow looked up bewildered and cocked her head. "Seriously?" Tara simply stared and shrugged; she had no idea and this amused Willow to no end. "Sooo, you have no idea whatsoever how the house got cleaned?"
"Willow…" Tara whined.
Willow pushed herself up and took Tara's hand; giggling as they headed towards the bedroom to change. "Baby, the cleaning company came while you were napping. They were like a little army of scrubbing bubbles. You know, like the commercial? Anyway, I thought for sure they woke you up."
"Wow, I never heard a thing; told you I was sleepy."
"I guess so."
"Kinda how you slept through all the commotion last night, huh?"
"Yeah, but I had an excuse! I got knocked out cold by the orgasm fairy." Willow grinned mischievously, poking her tongue out between her teeth.
Tara raised an eyebrow as she opened a drawer and pulled out a different shirt. "Hmm, and your comatose state had nothing at all to do with the mysterious disappearance of several dozen jello shots?"
"Yeah, how about I plead the fifth on that one," Willow replied sheepishly; digging through a still packed box of clothes in their now shared closet. "In my defense, your honor, I wasn't the
only
responsible party. I believe you witnessed exhibit A and B earlier this morning?"
Tara looked up at Willow and bit her bottom lip, "Stacey was hung over, but Oh God," She snickered, "I felt so bad for Kurt. He looked like he got run over by a train…"
"And then attacked by a pack of wild dogs." Willow finished Tara's sentence and when they looked at each other burst out laughing.
"Honey, what are you looking for?" Tara leaned in the doorway waiting for Willow, who was now also on the floor, rummaging through yet another yet to be unpacked box.
"Aha!" The redhead exclaimed excitedly, thrusting an old softball mitt in the air. Tara grimaced. "Well, we're going to the park, and I thought we could, you know maybe throw the ball around…a little…maybe?" Willow popped up off the floor and tried her best puppy dog eyes with the less than enthusiastic face Tara was making. "I mean, you can throw a ball, I've seen you throw one to Ralphie tons of times."
"Well yeah, but that's different."
"How so?"
"Well for one, I don't have to hit a target. I can toss it anywhere, no skill required. Plus, there's the whole catching part…" Tara said absently, pulling a few things out of her purse.
Willow held the backpack open as Tara dropped her stuff in; zipping it quickly and tossing the strap over her shoulder. "No worries baby, I'm a pretty good coach, but no big...just in case." She cupped Tara's cheeks and pulled the girl to her. She gazed into Tara's eyes and smiled, before pressing their lips together in a tender kiss; then heading out the door.
********************************
After about thirty minutes of watching Ralphie frolic about in the dog park, with several other dogs, they made their way towards the back of the park in search of something more secluded. They managed to find a spot where they could tie Ralphie to a lovely shade tree; without their fear of him wandering off. They pulled out a bowl and some water for their boy and got him settled before Willow held up the gloves and waved them in the air.
Tara rolled her eyes playfully before grabbing the old glove and sliding it securely on to her left hand. "Hey look, it fits like a glove!" Tara joked as she flapped the glove open and closed on her hand.
"Ha, good one." Willow deadpanned.
Tara shrugged, "Oh well, it was worth a shot."
Willow chuckled at her silly girlfriend; taking her glove out, sliding it on and grabbing a softball. "So, you've never tossed a ball around before?"
Tara smiled, a little sadly, "Nope. No Dad, remember? A-And, my mom, wasn't really into sports."
"Sorry, I didn't mean to bring up the bad memories."
"It's ok Will; it's not bad memories…it's more like
no memories.
Willow nodded with a sad smile of her own and sighed deeply.
Tara gazed at her lover with a sappy half smile; reaching out to cup her cheek with the ungloved hand. "Sweetie, you didn't say anything wrong, and besides, now we have the opportunity to make [/i]real[/i] memories.
That seemed to perk Willow up a bit, and she covered Tara's hand with her own and nuzzled against it. After a few seconds, she kissed her lover's hand and grinned widely. "Ready to make some memories?"
"You bet!"
Still grinning, Willow dropped her hand and began to walk backward. Tara got the hint and did the same. They stopped when they were about ten feet apart. Willow held up the ball and gently tossed it underhand to Tara. Who clumsily caught it in the tip of her glove. The blonde smiled triumphantly; pulling out the ball and tossing it back to Willow.
"Great job baby!" Willow exclaimed and returned to toss.
The gentle back and forth went on for a while until Tara finally missed and the ball rolled past her about eight feet. She ran, picked it up in her glove and much to Willow's surprise, threw it back to her overhand and with some force. Willow quickly threw her gloved hand up as the fast-moving ball smacked when it made contact with the soft leather.
Willow looked up at Tara with complete surprise written on her face, while Tara's eyes danced with mirth. Tara shrugged, "What? All this gentle throwing was getting a little boring. So, I decided to spice things up a bit." Tara widened her stance and held up her glove; flapping it opened and closed. "Well, what cha waiting for? Christmas?"
Willow smirked, "Okay…if you insist."
Tara gulped audibly but doubted Willow could hear her at this distance.
Surely she's not going to throw is too hard. Is she?
Tara cringed at the thought. She knew how hard her girlfriend could throw and with laser accuracy. She'd seen Willow throw out a runner from several dozen yards away; she was not to be trifled with on the playing field.
Willow stared at Tara and then began to do a dramatic wind up before returning the ball with a soft overhand throw and grinning widely.
Tara caught to the ball; shaking her head and laughing. "Are you ready?"
"Let 'er rip baby!"
Willow crouched a little like a catcher as her girlfriend stared her down and sent a perfect rocket right into her glove. The redhead was stunned. "Damn…"
Tara held her head high and quirked her lips, in what could only be described as a 'smug smirk.'
Willow eyed the blonde carefully, "This cannot be the first time you've thrown a softball. You've been holding out on me!"
Tara could no longer hold on to her serious face and began to giggle. The look on Willow's face was priceless.
God, she is the most adorable thing I've ever seen.
She held both hands up as if to surrender. "Ok, so I may have learned a few tricks for a movie when I was younger, but it was a very long time ago, and I probably couldn't do that again if I tried."
"Hmmm, well, I guess we'll have to test that theory, won't we…" And with that, Willow tossed the ball back to her girl, and they spent the rest of the afternoon
testing
that theory.