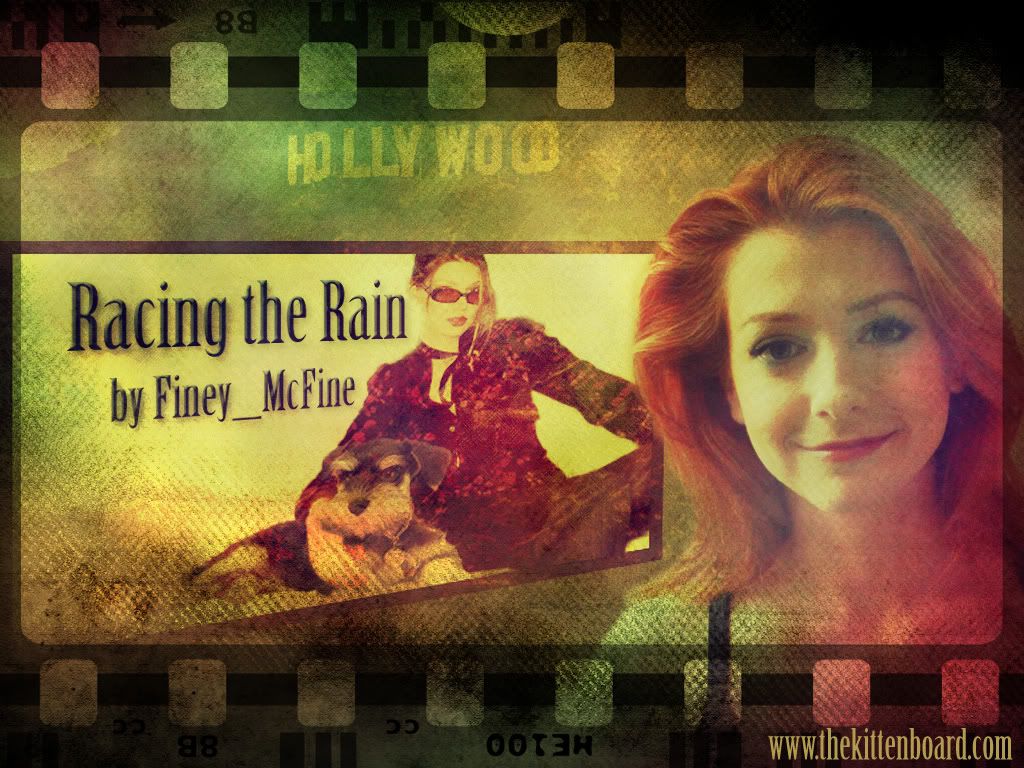 TITLE: Racing The Rain
AUTHOR: Finey_McFine
RATING: NC17
DISCLAIMER: Willow, Tara and any other BtVS characters, as well as some random dialog, belong to Mutant Enemy. ALL other original characters belong to me! This includes: Willow's siblings and teammates, plus Tara's friends and co-workers. Mention of any 'real' people in this fic is brief and pure fantasy.
SUMMARY: Totally AU! Set in LA with lots of W/T fluff and some angst, but no Hellmouthyness; just good old regular day-to-day drama. Willow is attending college on an athletic scholarship and Tara is Hollywood royalty. They meet and fall in love, of course, but will they be able to survive the pitfalls of a public romance? Well, you'll just have to read and find out!
<Thoughts are in italics>
FEEDBACK: Yes! Any glaring issues…please send me a PM!
AUTHOR'S NOTE: So, I'm just gonna pretend that it didn't really take me nearly 5 months to post this update, okay? So, we're good then, right?
Anyway, there was no proof of this chapter and I only re-read it a couple times, so if you come across something, just PM me and I'll fix it:) Enjoy!

Chapter 68: The Hustler
Willow's eyes popped open and she shot out of bed like a rocket.
"Oh my God, oh my God, oh my God!" She exclaimed as she spun in circles and then darted around the room looking for their clothes.
Tara was confused, after being awoken from a dead sleep by her spastic girlfriend. "Willow…What-?" She was stopped mid sentence when a bra came flying at her face. She managed to swat the item away at the last second, but wasn't as lucky with a shirt; one that was now draped over her head.
"Sweetie, calm down."
"Tara I can't, we fell asleep and slept
all
afternoon! It's after five!!!" Willow exclaimed and she tried to literally hop into her pants, but ended up falling face first on to the floor.
"Willow!" Tara shouted and peered over the side of the bed.
"It's okay, I'm fine." Willow sat up and finished pulling her pants on. She sprang off the floor and sat on the side of the bed to put her socks on.
Tara smiled appreciatively as she admired Willow's nakedness from the waist up. Willow's smooth back, with the light smattering of freckles and the slightly protruding backbone.
She crawled over and embraced Willow from behind; pressing her own naked chest to her girlfriend's back and wrapping her arms around her stomach. Tara snuggled into Willow's neck; placing butterfly kisses on Willow's neck and collarbone as her hands wandered up and cupped Willow's breasts.
"Mmhmm, Tara…"
Tara smiled, noticing how Willow instantly calmed as she maneuvered herself to a sitting position and wrapped her slender legs around Willow waist.
Willow closed her eyes and allowed herself to relax, enjoying the moment. As Tara began playfully nipping her neck, Willow entangled a hand in the golden locks, pulling Tara closer and moaning softly. "Mmmm…hi baby."
"Hi…" Tara breathed, "Feeling better?"
"Umm hmm…sorry."
"For what?"
"Spazzing out."
"It's fine sweetie, we have time. Besides, I think you might need this before you go running out the door." Tara smirked knowingly; holding up her left hand with Willow's bra dangling off her index finger.
Willow giggled, thanks and sorry for the extreme spazz attack, but we do need to get back."
"Not without a
good afternoon
kiss." Tara turned her head and was met with Willow's soft and inviting lips. She felt a warmness seep into her chest as the kiss deepened and they momentarily lost themselves.
Willow sighed, "As much as I'd love to stay right here with you the rest of the day…"
"I know baby, I know…" Tara breathed as she untangled herself and went about getting dressed.
****************************************
Several hours later the party was in full swing and the girls had their hands full. Everyone had shown up and then some, including Morgan, who hadn't been invited but snuck in as the date of one of Willow's teammates. Willow and Tara wanted to throw her out, but several of the girls suggested allowing her stay, despite what happened at The Swamp. They promised to keep an eye on her and intervene before she had a chance to cause any trouble. Tara was worried, especially after the way Morgan had become physically aggressive towards Willow, but reluctantly agreed. The last thing she wanted was to cause any more strife amongst the team. It was an uncomfortable situation, but they decided not to let Morgan's presence ruin the entire evening.
It seemed as if there were people in every room of the house; chatting, laughing and just having an all around good time. Most of the partygoers had convened in the basement around the bar where there was a pool table and a state of the art stereo system. Willow and Stacey were currently embroiled in a heated game of pool against Mandy and Bri.
Tara stood across the room chatting with Pammie, while she watched Willow size up her shot. She sighed wistfully as Willow leaned across the table to take her shot; giving Tara a nice view straight down her shirt.
"Oh for fucks sake Tara," Pammie said as she rolled her eyes.
"What?" Tara said, never taking her eyes off her girlfriend. "Can't a girl admire beauty when she sees it?"
Pammie raised her eyebrows and laughed loudly when the redhead struck her best
Tom Cruise Color of Money
pose after sinking the difficult shot. "Yeah, beauty…that's
exactly
what I was thinking." Pammie replied with an amused smirk.
Tara giggled when Willow began to strut around the pool table before taking another shot. She turned back towards Pammie and took a sip of her drink. "Thanks for coming tonight."
"Are you kidding? There was free food and booze and you know me!"
Tara laughed and shook her head. "Well, keeping an eye on the sociopathic super-bitch is definitely in the 'above and beyond' department, but I guess you would've come anyway."
Pammie sighed, "This is true, I do love getting dragged into the middle of your drama. So, where is the skank anyway?"
Tara chuckled, "No idea, probably sprinkling arsenic on my pillow or something. As long as she stays away from Willow, we're good."
"Tara, that's not funny. What if she…"
Tara put a hand on Pam's shoulder. "I was kidding. We locked Ralphie and Miss Kitty in the bedroom. He'll sound the bark-o-matic alarm if anyone opens the door."
"I just don't like her in your house…knowing the layout and everything. She sounds like a creepy stalker to me."
"I know, I'm not thrilled either, but so far she's steered clear and the girls promised to keep her on her best behavior."
"I hope you're right."
"Me too."
"Anyway," Pam breathed, "Looks like things are going well with you and 'the hustler' over there."
"Mmhmm,
very.
" Tara said with a dreamy expression.
"For the first time ever, I think I'm actually jealous." Pam said.
"You should be," Tara said with a smirk, "Since I managed to snag the most beautiful woman on the planet." She said proudly.
Pam rolled her eyes yet again, "Oh brother…"
As if on cue, Willow sauntered up and snaked an arm around Tara's waist; leaning in and kissing her lovingly on the cheek. "Hey Pammie! What's the what?"
"Oh nothing, Tara was just explaining her definition of beauty…"
"Ummm, would you like my definition too?" Willow cooed as she leaned in and affectionately rubbed noses with Tara.
"Oh Sweet Jesus…I need a stronger drink." Pammie proclaimed, waving her hand as she turned towards the bar.
"I think we broke her," Tara said, setting her drink aside and looping both arms over Willow's shoulders.
"She looks bendy, I'm sure she'll survive," Willow replied as she grasped Tara hips and began swaying to the music. "Having a good time?"
"Umm hmm, you?"
"Absolutely." Willow leaned her forehead against Tara's. "Last night and today were…"
"Magical?" Tara whispered, finishing Willow's sentence.
"Magical…" Willow breathed before pressing their lips together. They were both lost in the moment and the rest of the world faded.
"Hey Willow!" Stacey shouted from the top of the stairs and breaking the spell.
"Yeah?!"
"Someone's at the gate! Should I let them in?"
"No, I'll be up in a second!"
"Okay!"
"I'll go sweetie," Tara said.
"Nah, you stay, hang out with Pam. I'll be back in a jiffy." Willow said as she gently kissed Tara one more time before letting go and bounding up the basement stairs.
When Willow arrived in the kitchen, she was surprised to see even more people that than when she'd gone down to the basement, about an hour before. She recognized most of them, but some she did not and this caused instant worry.
"Hey, where did all these people come from?" She asked Stacey, who was standing guard at the video monitor.
"No idea, I think people were randomly letting their friends in the gate while we were downstairs."
"Great," Willow grumbled. "Whose out there now?" Willow asked, but only received shrugging shoulders from her friend. She hit the talk button, "Who are you?"
"It's Freddie," A scratchy male voice replied.
"I'm sorry, but I don't know any Freddie. This is a private party."
"I'm friends with Miranda, she invited me."
Willow looked curiously at Stacey, "Who the hell is Miranda?"
Stacey shrugged her shoulders again and turned to the crowd, "Does anyone know a Miranda?!" A low murmur spread through out the house, but no one came forward. "No idea." Stacey replied to Willow.
Willow turned back to the video panel, "I'm sorry, but there's no Miranda here."
"Aw dude, really? She said she'd be here with Renee Rancourt."
"Hold on," Willow replied into the speaker.
Willow and Stacey looked at each other and sighed, then at the same time shouted into the crowd. "RENEE!"
A minute later a tall athletic brunette emerged from the patio. "Did someone call me?"
"We did," Willow said.
"What's up?" The girl replied nonchalantly.
"Did you invite random people to this party?"
"No?" She squeaked.
"Nee-Nee…seriously? I told you guys, this was supposed to be a small gathering, for close friends only!" Willow's temper was growing short.
"I know, but you said we could bring a date and well…"
Willow raised an eyebrow, "Some chick named Miranda is your date?"
"Yes?"
"That's funny, cuz she sure looked like a guy with a full and manly beard when you arrived." Stacey added sarcastically.
"Okay, okay so I may have mentioned it to my roommate's sister who may have told her best friend's brother." Renee stood nervously biting her lower lip and turning fifty shades of red.
Willow shook her head quickly as if she were in a cartoon, "Does this roommates' sisters' best friends' brother happen to go by the name of Freddie?"
"Maybe?"
Willow sighed and turned back to the monitor as Stacey pulled Renee off to the side and gave her a proper scolding. "Dude, I'm sorry but I can't let you in."
"Aww, bummer. Okay." Freddie replied dejectedly, as Willow clicked off the audio and slouched back against the wall and blowing her hair out of her face.
A few seconds later Tara and Pam emerged from the basement. "Tara you can't keep this up, you've
got
to find someone."
"I know, I just didn't see the point in trying to do it before we leave next week."
"So, what are you going to do in the mean time? Go completely insane?" Pam asked as she tossed several cups in the trash.
"I'll manage," Tara said looking for Willow amongst the throng of people. "Hey…who are all these people?"
Willow began to speak, but never had the chance. When the crowd of newcomers noticed Tara, they surged forward and surrounded her. Willow sighed; she was actually getting used to dealing with type of situation and turned to Stacey instead.
"How many people do you think got let in?" Willow asked.
"No idea, but I think we're okay. I mean, they seem fairly harmless and I don't think there's anyone we need to worry about. It looks mostly like close friends and roommates."
"I hope you're right." Willow replied, pushing off the wall, rescuing Tara from the small group and quickly explaining what was going on.
"You see?" Pam interjected. "You have
got
to get an assistant! This never would have happened if you had someone else in charge." Tara rolled her eyes.
"She's got a point baby," Willow added, running her hand down the back of Tara's arm and entwining their fingers. She couldn't be that close to Tara and not be touching her.
Tara smiled at the sweet gesture, "I know, I know…I promise it will be numero uno when we get back."
"Um, Tara?" Stacey said.
"Hmm?"
"I can help."
Willow eyes widened and a huge smile spread across her face. "Hey! That's a great idea! I don't know why I didn't think about that before…" She chastised herself, smacking her palm to her forehead.
"Will, what are you talking about?" Tara asked.
"Stacey! She's majoring in public relations and business admin!!"
Stacey smiled and gave a small wave, a bit embarrassed by all the attention.
"But what about softball?" Tara asked Stacey.
"I can still help you out…answer emails, take calls, schedule appearances, etc. I have a light class load next semester and a bunch of free time. Plus, I don't mind doing it temporarily, until you find someone full time. I understand what it entails, I interned last summer with Griffin Management."
Tara bit her bottom lip while she contemplated the offer. "I…this probably isn't a decision I should be making after doing jello shots. Do you mind if I think about it?"
Stacey laughed, "No problem, I totally understand. By the way are there any left?"
Willow giggled at her friend; kissing Tara on the cheek before looping her arm through Stacey's and pulling towards the patio, "Come on, I'll show you where they are."
Willow led Stacey through the open French doors and over to a large blue cooler near the grill. She opened the top to reveal an army of small plastic cups, in every color under the rainbow and filled with alcoholic jello. She pulled out two cups, handing one to Stacey and popping the lid on hers. "Here's to…more fun nights like this before we graduate!" Willow babbled as she tapped her cup to Stacey's.
They both downed their shots and laughed. "Oooh, those are yummy!" Stacey exclaimed. "I've never toasted with jello shots before. Grab us some more."
The two friends each downed several more before Willow finally plopped down in a nearby chaise lounge, rubbing her tummy and groaning. "Ugh, no more…"
Stacey smirked. "Light weight, all this domestic bliss has you out of practice."
Willow sighed contentedly, "Speaking of domestic bliss, where's Kurt?"
Stacey froze and raised her eyebrows, "Oh shit…I forgot all about him!" She exclaimed as both girls burst out in drunken laughter. "Oh my God," Stacey said, finally catching her breath. "I can't believe I forgot him. I'd better go see what he's up to."
"Hey, if you see Tara, tell her I'm still out here, okay?"
"Sure thing." Stacey smiled as she made her way back into the house.
Willow laid her head back and closed her eyes, definitely feeling the effects of the alcohol and instinctively knowing she was done for the night. She didn't want to get fall down drunk, as she had in the past before she met Tara. Those lonely days were behind her and she couldn't help the lazy smile that crept across her face.
"Looks like you're enjoying some pretty happy thoughts."
Willow's eyes fluttered open when she realized someone was talking to her. "Huh? Oh, hey Morgan."
"Hi, do you…do you mind if I sit?" Morgan asked hesitantly, motioning to a nearby chair.
Willow shrugged, all traces of her smile gone. "Sure, I guess."
Morgan smiled nervously, "Thanks and don't worry, all I've had tonight is water."
"Oh, well um…that's good."
"Listen, Will I…there's a few things I need to say." Morgan fidgeted in her chair as she received a reassuring nod from the redhead. She blew out a big puff of air before speaking. "First, I owe you a HUGE apology. Well, several actually and I also want you to know that I am happy for you. Insanely jealous, but happy." She giggled nervously at her attempted humor, but trudged on.
"I want to be completely honest with you Will, is that alright?"
"Okay."
"Well, as you know, it all started that night you brought Tara to Stacey's party…a-at first I thought, okay this is just a casual thing. I mean, what are the odds of
Tara Maclay
and a non-celebrity-type college student, right? Then I saw the way she looked at you and the way you looked at her and I…I knew I'd lost you and I just, I spent the next twenty-four hours freaking out. So, when we finally talked the next night, I had myself whipped into a complete frenzy." Morgan paused to catch her breath. "Then all the other stuff I did, well...definitely not my finest moments. I acted like a complete idiot and I'm so sorry. We've been friends a long time and I just don't want to lose you…completely." Morgan hung her head as she finished.
Willow sat up, "So what changed since last week?" She was still very skeptical of her former friend.
Morgan sighed, "Xanax," She said flatly.
Willow cocked her head; it wasn't the answer she expected. "Really?"
"Yeah, I got
sooo
drunk after seeing you and Tara all lovey dovey at the banquet a-and I know it's not an excuse, so please don't think I'm trying to make excuses. I'm just stating a fact. Anyway, the next day, after I sobered up, I looked in the mirror and didn't recognize the person staring back. I got physical and I…I hurt you." She whispered. "Then I started crying and couldn't stop, all day. So, first thing Monday morning, I went to see a counselor at school and she recommended that I see a doctor…a psychiatrist. So I did and he said I showed classic signs of depression and prescribed the meds. I um, I'm doing better and have appointments to see him twice a week now."
"Morgan…" Willow almost reached out, fighting the urge to place a comforting hand on the girl, who was clearly hurting, but she definitely did not want to send any mixed signals.
"I just…I want us to be okay and I know it we can probably never be as close of friends as we were before, but I just don't want all this…this tension between us."
"Wow, I…I don't know what to say." Willow paused while she gathered her thoughts. Morgan was in a very fragile state and Willow felt awful for her friend; knowing all to well what it was like to have an unrequited crush on someone. "Morgan, I'm willing to try if you are. I don't like all tension either, especially on the ball field. Personally, we have a lot to work out, but we have to be in tune on the field or next season will be a disaster."
Morgan nodded her head, even though she was staring intently at her nervously fidgeting hands. "I understand," She whispered as a single tear dripped down her cheek.
Willow's breath caught when she realized just how callous she sounded.
Great job Willow. She just poured her heart out and all you were worried about was softball.
"Morg," Willow said gently, "I didn't mean that the way it sounded. I do care about you, I just meant-"
"I get it Will, I know how the game is personal for you…how intensely you play and how much it means to you. I just don't want to be shut out…of your life and our friends' lives. You guys are my best friends and I just feel like ever since…" Morgan took a much-needed deep breath. "Ever since you started seeing Tara, the entire chemistry of the group changed. You haven't been around much and as it turns out…you're the glue that holds all of us together."
"Oh, I'm not-"
"You are," Morgan said meaningfully, "We look to you on and off the field. Don't you see that?"
Willow thought for a moment. Maybe she had retreated, maybe she wasn't as attentive to her friends as she had been in the past, but then again, maybe Morgan was just trying to give her guilt. Whatever the answer, Willow decided to not push it, so she simply nodded and left it at that. It was something she would need to think about in detail, something that needed coherent thought and after a half dozen jello shots…coherence wasn't on the menu.
"So anyway," Morgan said suddenly, "Thanks for letting me stay. This place is gorgeous and I can't believe that basement, wow!"
Willow chuckled, "Yeah, I had a similar reaction the first time I saw it too. I love watching movies down there. It's just like being in a regular theater, but without someone constantly kicking your seat or your feet sticking to the floor." Willow grinned widely. With the air cleared and the serious conversation apparently over, she finally allowed herself to relax a bit as the two continued to chat amicably.
Tara was still in the kitchen and trying to look interested as she kept getting drawn into meaningless conversations with people that just wanted to get close to the famous actress. After Stacey had returned, looking for Kurt and Willow did not; Tara went looking for her girlfriend. When Tara stepped outside, she saw the two women talking and obviously involved in an intense conversation. Watching for several moments, to make sure things were okay, Tara reluctantly eased back inside; allowing them some privacy. She wasn't thrilled with the prospect of leaving Morgan alone with Willow, especially after the incident at The Swamp, but charging out there like an over protective mother hen wasn't really an option either. So, she continued to feign interest, wondering just how long was appropriate before she could excuse herself and wander back out to the patio.
Luckily for Tara she didn't have to wait long before she spotted the familiar mop of red hair emerging through the backdoor. She was also quite happy to see that Morgan hadn't followed. They made eye contact and Tara smiled warmly; praying for her girl to come rescue her. No sooner had the thought crossed Tara's mind, than Willow was at her side and sliding an arm around her waist.
She kissed Tara's cheek and whispered softly in her ear. "Meet me in our bedroom…five minutes."
Tara shuttered, not because Willow's warm breath tickled her ear or because it caused a shock of desire to shoot through her entire body, but because Willow said
our
bedroom and Tara couldn't stop the giddiness that word evoked. Several minutes after Willow drifted away, Tara was finally able to get out of the awkward conversation, excusing herself and sneaking off to find her girlfriend.