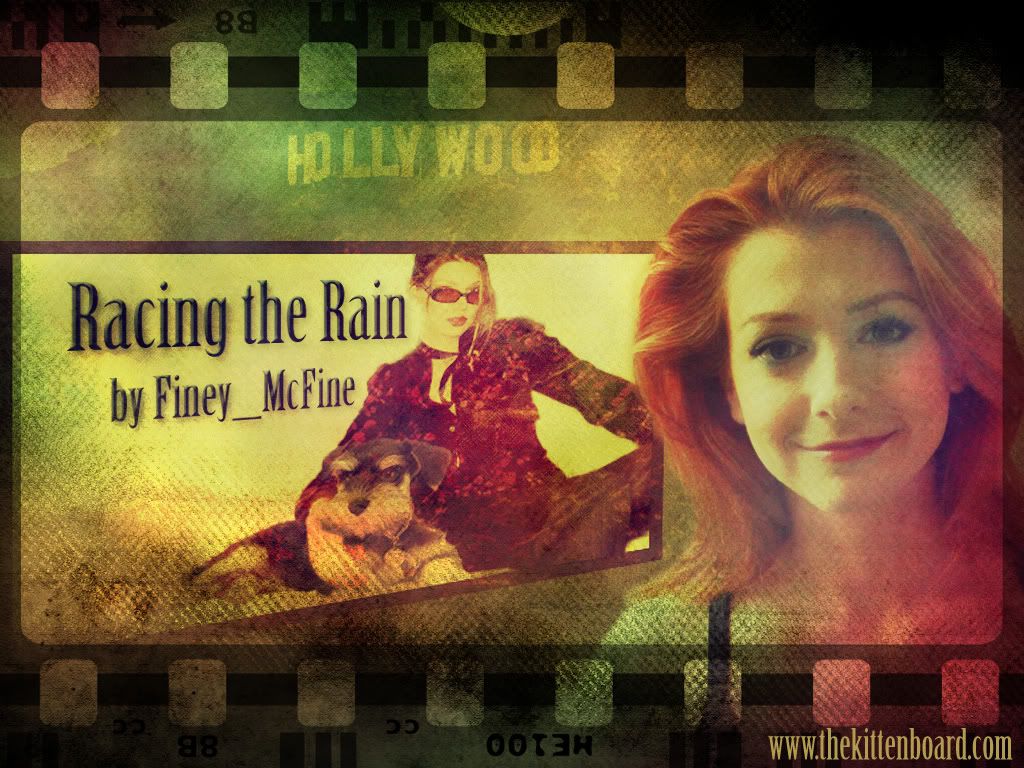 TITLE: Racing The Rain
AUTHOR: Finey_McFine
RATING: NC17
DISCLAIMER: Willow, Tara and any other BtVS characters, as well as some random dialog, belong to Mutant Enemy. ALL other original characters belong to me! This includes: Willow's siblings and teammates, plus Tara's friends and co-workers. Mention of any 'real' people in this fic is brief and pure fantasy.
SUMMARY: Totally AU! Set in LA with lots of W/T fluff and some angst, but no Hellmouthyness; just good old regular day-to-day drama. Willow is attending college on an athletic scholarship and Tara is Hollywood royalty. They meet and fall in love, of course, but will they be able to survive the pitfalls of a public romance? Well, you'll just have to read and find out!
<Thoughts are in italics>
FEEDBACK: Yes! Any glaring issues…please send me a PM!
AUTHOR'S NOTE: Hi everyone! I thought I'd treat you all to a very HAPPY VALENTINE'S DAY!!
There was no proof of this chapter, so if you come across something, just PM me and I'll fix it:) Enjoy!

Chapter 67: Sixth Time's a Charm
There comes a time in all relationships when the newness wears off; the proverbial 'honeymoon is over.' A time when the early pleasant beginning has ended and the settling in period begins. It happens to everyone at some point, right?
Willow had no idea if that was the case with Tara, she didn't think so, but had never been in a long-term relationship before. After all, in all of her prior
relationships
she'd never even left the newness period. There was nothing to compare this to.
Her earlier outburst and the subsequent disagreement it caused, had definitely been an eye opening experience. No one
wants
to fight, but it was inevitable, just as the newness wearing off was inevitable. At least that's what her mother had said to her earlier in the day. As Willow laid in bed waiting for Tara, she thought back to that fateful conversation; the one that caused all the drama.
During the course of their conversation Sheila had implied that Willow, "
wasn't seeing things clearly,
" because she and Tara were still in the "
honeymoon phase
" of their relationship and when that wore off, her outlook would change. Sheila said it was inevitable. Willow would begin to "
see Tara in a different light"
and if they moved in together it would be too late; she'd be
"stuck between a rock and a hard place."
"
Don't put all your eggs in one basket,"
She said.
If there was one thing Sheila did well, it was pushing Willow's buttons and she excelled at the task. Willow immediately shot back with something along the lines of, 'that's a bunch of
mumbo jumbo'
and 'you're just trying to
upset the apple cart.'
She figured if her mother was going to rely on random idioms to try and get her point across, then she too would toss out a few of her own. It was a smartass thing to do, but Willow just couldn't seem stop the words from flying out. She'd been proud of herself for firing back so quickly, until she realized her mother was unfazed and had no idea she was being mocked. Sheila's ranting continued and Willow lost all interest in their
discussion
; not that she had any to begin with, but it caused her to sink into a frustrated funk. As usual, everything she said sailed straight over Sheila's head.
Willow blinked several times, trying to shake the mind babble and get the thought-train back on track.
What was my point? Oh yeah, honeymoon phase…
It had been a
very
long day and all she wanted was to snuggle with her girlfriend, but said girlfriend was no where to be found. Tara had excused herself to the bathroom over fifteen minutes ago; leaving Willow with nothing but her inner ramblings for company. The redhead was getting restless waiting for Tara to come to bed, but wanted to give her space and stayed put.
Earlier in the evening, after reconciling for the second time in less than two hours, they made dinner and settled in to watch some TV. Both Willow and Tara we're feeling disconnected after the disagreements. It wasn't something they were used to. They snuggled and hugged and kissed until they felt things were getting back to normal, but still the feeling lingered.
"Hey Tare!" Willow called out.
"Yes baby?" Tara yelled back from the other room.
"Do you think the honeymoon is over?" Willow asked, still staring mindlessly at the ceiling and waiting for a reply.
"I don't know, do you?" Tara answered is a low sultry voice.
Willow was caught by surprise at the close proximity of Tara's voice and raised her head in confusion. "Hey, I thought you were…oh golly gee wiz…"
Tara raised a bemused eyebrow as she stood with one hand leaned on doorjamb and the other on her hip. "Oh golly gee wiz? That's your reaction?"
"Uh huh." Willow's mouth hung open and her eyes nearly bugged out of her head. All thoughts of the reasons behind the previous mind babble were officially gone. In fact, Willow was a complete blank as she gawked openly at the glorious sight before her.
She now understood why Tara had taken so long in the
bathroom
, maybe because she wasn't in the bathroom at all, maybe because she had snuck into her closet and changed into a very sexy, very revealing negligée.
"So, you like?" Tara asked as she sauntered towards their bed in the bright red lingerie.
"Uh huh…" Willow breathed.
As Tara slinked across the room; her voluptuous breasts bouncing lightly in the sheer lacy bodice, causing her nipples to harden while straining against the tight fabric. Without even being consciously aware of her movement, Willow sat up and tossed her legs over the side of the bed; anxiously awaiting the blonde's arrival. She gripped the mattress under her thighs to stop herself from rushing towards Tara and tackling her to the floor. Plus, she wanted to enjoy the show.
Willow reached out and hooked a finger through the crisscrossed lacing, in the opening just under Tara's breasts and pulled her forward until she was standing between Willow's naked thighs. The redhead was completely enthralled and ran her hands down Tara's sides, over her full hips, down her legs and back up again; loving the feel of the lace beneath her fingers. Once the redhead was satisfied with her exploration, she slowly allowed her hands to slide around Tara's waist and under the garter belt straps that hugged her ass as she kneaded the bare cheeks in her hands.
Tara laced her fingers through Willow's hair, watching as Willow mapped her territory with her eyes and hands. Then, just as the redhead reached to untie Tara's string-tie thong, she pushed Willow back on to the bed; crawling up and straddling her narrow hips.
"Not just yet my love," Tara said as she pulled something out from between her breasts and twirled it around on her index finger; grinning like the Cheshire cat.
"Hmmm, what do you have in mind o'mistress of pain?"
Tara snorted, but didn't miss a beat. "Well, you know what they say…no pain, no gain." She growled as she captured Willow's wrists and held them above her head, giving Willow an unobstructed view of Tara's bulging cleavage. "Scoot up baby."
Tara rose to her knees to allow Willow to move up higher on the bed. She crawled over Willow, sliding up her naked body and brushing her breasts close to Willow's face, but not allowing them to touch. The redhead groaned and tried to lift up and wrap her mouth over one, but Tara lifted at the last second.
"Tisk, tisk…you are a naughty girl, aren't you?"
"Ummm Tara," Willow whined, "You're gonna make me come without even touching me."
Tara simply smiled down at her lover and proceeded to wrap one of the fabric cuffs around Willow's right wrist, then around a bedpost and finished with her left wrist. The loose fitting fabric handcuffs came with the outfit and Willow could have easily pulled right out of them, but she played along; loving their little game.
"Did that also come with a matching blindfold?" Willow asked, receiving only a smirk from her lover as Willow arched her hips upwards in desperate need of some friction.
Tara leaned forward as if she was going to kiss Willow, but instead turned and began lightly kissing down Willow's jaw and gently running her tongue around the edge of Willow's ear. Tara was well acquainted with that particular erogenous zone and within seconds, Willow began to squirm under the blonde.
"Oh God Tara….ummmmmmm," Willow moaned. Tara smiled as she continued her ministrations.
Once satisfied that Willow was completely worked up, Tara began kissing and licking her way down Willow's neck and collar bone; having yet to actually touch her anywhere else. Even with these lightest of touches, she could feel the redhead trembling beneath her. Tara decided to take advantage of the situation and tease the girl a little longer by sitting up once again.
With her knees on either side of Willow's hips, she leaned slightly forward; scraping her short nails gently down Willow's chest, just around the outer edges of her small pert breasts. Tara briefly made eye contact and licked her lips before running her tongue down Willow's stomach and flitting around her belly button.
Tara was thoroughly enjoying herself, but she too was beginning to crave more. Slowly slinking back up Willow's body, she allowed her breasts to brush across Willow's puckered nipples, eliciting a loud groan. Willow was panting hard and her eyes had closed of their own violation. With the intense arousal, she was finding it difficult to do anything else and when she finally opened them, she was met with two dark blue ones staring back with wanton desire.
Willow raised her head and this time Tara didn't pull back; instead she smashed their lips together in a blistering kiss. When their lips parted, Willow was panting harder and once again arching her back as Tara captured one pebble hard nipple in her mouth and then the other before crawling backwards and lying between Willow's legs. She began kissing up one thigh, across the top of her mound and down the other side before gently nibbling her way back up to Willow's dripping wet pussy.
"You are so wet and sexy," Tara groaned, squeezing her own thighs together.
"Tara…please…" Willow breathed.
"Tell me baby…tell me what you want."
"Your mouth here…" Willow whispered as she spread her legs wider; opening herself completely to the blonde.
"Ummmm, gladly," Tara responded before running her tongue along the expanse of Willow's center. Tara made several more maddeningly soft passes over Willow's clit before latching on with her mouth and sucking hard.
Willow grunted loudly and clutched the fabric of her wrist binding and hoping that she didn't break the bedpost in the process. She raised her head slightly; looking down her heaving chest and seeing Tara's head buried between her legs. Not having the ability to tangle her hands in Tara's hair and having zero control was seriously turning her on. She didn't want to come too fast, but she was finding it hard to hold back. Especially when Tara began flicking her clit hard and fast. Tara could feel Willow's arousal building and held her wildly thrusting hips tightly. It only too a few seconds before Willow threw her head back and unleashed a loud scream; coming hard on Tara's face. The blonde stayed put, lapping up the juices and pressing her tongue flat against Willow's clit; feeling the little bundle of nerves throbbing against her.
Willow's body flopped helplessly onto the bed as she lay trying to catch her breath when Tara began to slowly rub her flattened tongue across the swollen nub once again. She began slowly until Willow started moaning and thrusting against her. Tara picked up the pace and flicked Willow's clit hard causing the redhead to come again; screaming and writhing in ecstasy.
Tara stopped, thinking her girlfriend was done only to have Willow beg her to continue. This repeated several more times until Willow collapsed completely.
"Holy wow," Tara breathed as she wiped her face with her hand and pushed up on her elbows to look at her girlfriend.
Willow's eyes were still closed and she was still tied up and trying to catch her breath, but a lazy grin stretched from ear to ear.
Tara kissed her way up Willow's body, barely able to contain her own arousal when Willow finally opened her eyes. They were dark green and smoldering. "Come here," Willow demanded and Tara complied, kissing the girl hard on the mouth.
They pulled apart with a pop. "No, I mean bring yourself up here. I want you to come on my face."
Tara half smiled, "You're wish is my command."
Tara pulled herself up and placed her knees just under Willow's out stretched arms. The redhead breathed in deeply, taking in the heady scent of Tara's arousal. She raised her head and nuzzled the g-string clad mound before grabbing one of the ties between her teeth and pulling until they fell free. She quickly did the same to the other side, but couldn't pull them off completely without some help from Tara. The blonde was all too happy to comply; pulling them off and tossing the wet panties across the room.
Willow was still bound and Tara still dressed in the lingerie; both things combined were turning her on beyond belief. She settled over Willow's face and the redhead wasted no time; plunging her tongue straight into Tara's hot folds.
Ugghhhhhhh," Tara groaned deeply as she began to thrust her hips against Willow's face; holding tightly to the headboard.
Willow's teasing tongue was all over the place and driving Tara insane. She looked down to see green eyes staring back up. She could see the arousal in those eyes and was suddenly missing Willow's normally wandering hands. Tara balanced herself and pulled away from the headboard; moving her hands to her own breasts. As she began to massage them she could see the smile in Willow's eyes and noticed her grip on the fabric cuff tighten.
"Oh God….so close!" She moaned as she pinched and tweaked her rock hard nipples.
Willow smiled, closing her eyes and pressing her face harder into Tara's center. It didn't take much before the woman above her grunted and then shrieked in pure ecstasy; falling forward and gripping the headboard while the orgasm rocketed through her entire body.
Tara was panting and her legs shaking as she rolled off her lover and fell to the side. "Oh. My. God."
Willow giggled as she pulled her hands free and wiped her own face. "Ditto," Was about all she was able to say.
Tara finally turned and snuggled against Willow's side and kissed her gently. "Baby, do you know that you came
six
times?"
"Mmhmm, I lost count after three. You were amazing."
Tara grinned and kissed Willow again. "I love you so much."
"Awww baby, I love you too."
Tara smirked, "Umm hmm, I bet…"
Willow lay staring into Tara's eyes, the room was dark but with a little help from the moon, she could see the love reflected in Tara's eyes. Willow's right hand moved absently across Tara's hip and under the garter straps. Suddenly Tara heard a quiet pop and felt one of the straps give way.
Tara looked up to see the sly grin plastered on Willow's face. "Oh my…exactly how did you know how to do that with one hand?" The blonde asked, arching a suspicious eyebrow.
Willow's grin only got wider as she reached around and unsnapped the other.
Tara rolled on her back. "Still two more in the front…"
Willow kissed her softly before sitting up and unhooking the other two, just as easily as she did the ones in the back. Rising to her knees, Willow gently pulled the lace stockings down and off of her girlfriend.
"I have many, many hidden talents…" Willow breathed seductively, "You'll just have to stick around to find out."
"Ummm, that can definitely be arranged."
*************************************
"Tare, are you sure we have time to do this before the party tonight? After all, we did kinda get a late start today…" Willow asked as she winked at her girlfriend.
"We're good, the caterer won't be there until seven, so we have…" Tara's voice trailed off as she checked the dashboard clock. "About five hours? That'll give us plenty of time to get ready."
Willow scrunched her face, "Caterer?"
Tara stiffened, nibbling on her bottom lip. "I…uh…umm…t-think I may have forgotten to tell you…oops?"
Willow smiled, after last night, there was no way on earth she could be angry with Tara. "It's okay baby, I just can't believe you hired a caterer. I mean, we're college students. If everyone brings a six pack and a bag of chips, we'd considered the party well stocked."
Tara smiled as she turned on her blinker and made a right into Willow's apartment complex. She pulled into Willow's reserved space; killing the engine and sagged into the seat, "Are you mad?"
"Wha…no, absolutely no to that question. It just means we have more time to
play
before everyone gets there." Willow grinned.
Tara shook her head in amusement, "Nympho."
"But I'm your nympho…" Willow giggled before kissing Tara soundly on the lips.
*****************************************
"Will?! Sweetie, is there anything else you wanna take on this trip?" Tara shouted from the living room of Willow's apartment. "Will?" She called again and after not receiving an answer, Tara shut the front door and headed back to the bedroom. When she came through the door, she found Willow sitting on the edge of her bed and staring aimlessly at the floor. "Hey honey, what's wrong?"
Willow looked up with watery green eyes. "We have so many memories here."
"Oh Sweetie," Tara cooed, wrapping her arms around her girlfriend and pulling her close.
Willow sniffled, "This is where we met and this was the first bed we ever slept in together."
Tara hadn't really given it much thought; she'd been more focused on them moving in and starting there life together. When the gravity of Willow's words hit her, she too began to tear up. Unable to speak, she nodded against Willow's head and pulled her tight.
"Are you okay?" Tara asked after a few silent minutes.
Willow sniffled again, "Yeah, it just kinda hit me all at once. Ya know?"
"Yeah…"
"Can we finish up when we get back from New York? I don't really need anything else before then."
"Sure, whatever you want love." Tara continued to comfort Willow and lovingly stroke through her hair.
"Sorry, I'm such a baby." Willow said as she sat up and looked into Tara's eyes.
"You're not a baby Will, besides, I wouldn't want you any other way." Tara leaned forward and kissed Willow softly.
"I love you Tara. With all of my heart…I love you forever."
"Darling…I love you too." Tara purred, as they fell back on the bed, proving the honeymoon was definitely
not
over.
***************************************